October 28, 2017—a day that we will never forget.
​In the blink of an eye, our 16-year-old daughter was gone. She had just left our home with her friends to go to a Halloween party. She was riding in the backseat, and only traveling a mile away from our home to a friend's house. They were only a few blocks away from our home when the car she was riding in veered off the road. The car rolled over, Kailee was ejected from the backseat of the car, and died instantly. Her three friends walked away with only minor cuts and bruises. Kailee was the only one in the car not wearing a seat belt.
​Just seconds before the crash, Kailee removed her seat belt to slide over in the backseat and take a selfie with her friend. It was that split second that shattered the hearts of so many. Car crashes happen more often than we are consciously aware of. You hear they weren't wearing their seat belt and died. See or read the news. But it always seems outside of your reality. Something that happens to other people. Why wouldn't they be wearing their seat belt? Doesn't everyone wear one? We never thought it would happen to us—to our daughter. We know that if she was wearing her seat belt, she'd still be here. Instead, the girl we called our "ray of sunshine", is gone.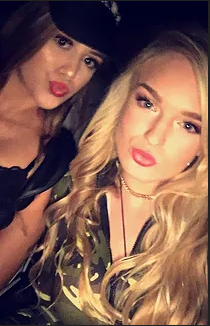 Kailee was very good about wearing her seat belt. We can't recall one single time that we had to remind her and never caught her without it on. As a backseat passenger, close to home, not going far, she let her guard down and had her seat belt off at the wrong time. These types of things happen in mere seconds and when you least expect it. We are all guilty of a momentary lapse in judgement when it comes to how safe we feel sometimes; especially when we are close to home. We all need a reminder, that life is precious, and we have to always protect ourselves.
In the weeks after the crash, we looked up statistics on seat belt use and traffic crashes. What we found surprised us. We learned how many people die each year on the road because they weren't buckled up; and how many lives could be saved. So many of these fatalities were completely preventable, if they were wearing seat belts. We want to change these statistics.
Car accidents are the leading cause of death in this country for people ages 1-54. Each one of those fatalities leave behind family and friends who must find the strength to carry on without them; that deep loss is difficult and painful beyond words. We know that pain first-hand because we live with it every day. Even though surveys show that the seat belt use rate in this country has topped 90 percent in recent years, that still leaves over 35 million people who do not wear their seat belts.
We want our daughter's story to serve as a reminder to others about the importance of wearing seat belts. Our goal is to prevent other families from having to go through the same pain and loss that we are going through. Kailee was always helping people and this is her legacy: to help educate and impact the culture surrounding seat belt use, and help families who have to endure loss.
We chose to honor our daughter by focusing our energy on something positive: raise awareness about the importance of seat belt use. We hope that what we are doing will inspire others to choose to do something positive with the tragedies in their lives.
From two heartbroken parents, here is our message:
Always put on your seat belt—whether you are the driver or a passenger— and make sure everyone is buckled up BEFORE the vehicle is in motion.
Talk to your children and CONTINUE talking to them about the importance of wearing a seat belt and what the risks are when you do not wear one.
​It only takes three seconds to fasten your seat belt. Those three seconds can change your life and the lives of those who know and love you.
It takes NO effort to keep your seat belt on. Stay buckled in until your vehicle is safely in park.
Drive responsibly. It's not worth your life or your passenger's life.​
Adults, it is our responsibility to set the example for the youth around us. Buckle up: every rider, every ride.
Please help us celebrate Kailee's life by joining the #BuckleUp4Kailee movement and DONATING to our seat belt awareness campaign today!